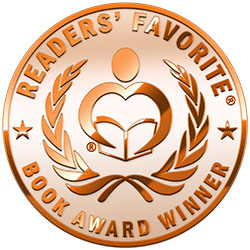 Reviewed by Liz Konkel for Readers' Favorite
A Ghostly Twist by Carla Solomon is a ghost story and treasure hunt adventure that follows four kids as they embark in search of a sunken ship. Sam has always relied on facts, but when he starts hearing voices and seeing ghostly faces, he encounters the possibility that ghosts do exist. But are these voices from an abandoned house connected to hidden treasure? A tour group brings a new friend into Sam's life and draws him on a treasure hunt in search of a sunken ship called the Dragonfly that disappeared years ago. The voices guide Sam and his new friends in an epic adventure that uncovers surprising secrets about the family that once lived in the abandoned house, the truth behind the shipwreck, and the location of the treasure.

The excitement of treasure hunting and exploring local history is infectious in how Sam and his friends become drawn into this adventure and mystery. The treasure hunt draws Sam out of his skepticism and into the exciting role of a treasure hunter, ghost helper, and adventurer. Through Sam, even the most reserved and logical person can see themselves as a treasure hunter. With new friends, Eliza and Libby, they delve into the secrets surrounding the wreck of the Dragonfly and the mysteries of the Humbolt family. Will is an important character that draws the characters into the history behind the ship, the family, and the town. He is a vibrant personality with a high opinion of himself as the prince of poetry and the master storyteller of their town, Safe Harbor. The character adds eccentricity to the story with his bubbly nature and confidence. He immediately captivates Eliza and Libby with his charismatic personality and hooks Rocky with his tale of treasure. The mystery surrounding the Humbolt family and the shipwreck slowly unveils as the children's adventure progresses and explores the true meaning of treasure. A Ghostly Twist by Carla Solomon is a feel-good adventure that balances a mystery, a ghost story, treasure hunting, history, and friendship.