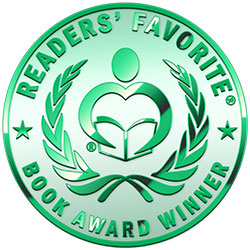 Reviewed by Jack Magnus for Readers' Favorite
Chermpf is a children's fantasy written and illustrated by William S. Russell III. Grace was busy drawing a flying tarantula when Grandpa Sal roared up in his Corvette. He was carrying a cardboard box when he walked into the house. Ann, Grace's mother, and Grace both wanted to see what was in that box, and it turned out to be a small tabby kitten. For some reason, that box signaled something momentous would be happening to Grace, and she wasn't quite sure how to reconcile that feeling with the small kitten inside that said, "Chermpf" when she asked its name. Then there was that strange sparkling in its mouth when it yawned. No one seems terribly impressed with Grandpa Sal's surprise, especially Roscoe, the house cat who just happens to be Grace's personal friend.

William S. Russell III's steampunk fantasy, Chermpf, is listed as a children's book, but don't let that stop you from reading this marvelous and original fantasy. It's got cats in it and a feline city called Nova, and the Ergasi, cunning little metal engineers who are mechanical marvels. I wasn't really sure what to expect from what appeared to be an animal-related children's fantasy, but Chermpf mightily exceeded any expectations I may have had. The characters quickly became friends, especially the little tuxedo cat, Mimyat, and Bear, but I'd be hard pressed to discount any character's part in making this book work so well. Russell's story-telling skills are honed well indeed if this ingenious metaphysical children's fantasy is at all indicative of them. I was also quite pleased to discover that this is just the first volume of a series. Chermpf is a first-rate steampunk fantasy and it's most highly recommended.