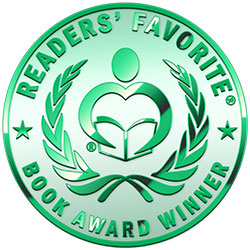 Reviewed by Mamta Madhavan for Readers' Favorite
Cleo-cat-tra the cat and her friend Mario the mouse were outside exploring the world of bugs. They followed a dragonfly that was fluttering above the water and watched a stink bug trudging through a hedge. Mario saw a spider in the barn and Cleocat was having fun with the grasshoppers. Then they both tried to catch the butterflies that were flying above their heads. They watched the beetles crawling on a log and spotted a praying mantis. Then in the afternoon the two friends listened to a cricket and stared at some ladybugs. They also saw some ants marching up a hill and Cleocat climbed a branch to see a swarm of honeybees buzzing around their hive. Cleocat and Mario listened to the cicadas singing and they also saw a caterpillar. As they sat on their porch in the evening they listened to the katydids and they both realized it was a lot of fun exploring together.

Cleo-cat-tra's Wonderful World of Bugs: A Cleocat First Concept Book by Lucy T. Geringer and Savanna G. Kollock is an adorable story of two friends who go out and explore the world of bugs. The authors introduce readers to the world of bugs in an entertaining and interesting way, making it informative and educational. Thomas Rodriguez adds color and appeal to the book with his wonderful illustrations and makes the characters of the two friends, Cleo-cat-tra and Mario, palpable to readers. It is a good way to introduce readers to different types of bugs and that makes it a good story to use in classrooms for storytelling and read-aloud sessions. The book will also help children appreciate nature and enjoy it with wonder and awe along with enhancing their vocabulary. The book makes a perfect gift this Christmas season for parents and grandparents to give their kids and grandkids.