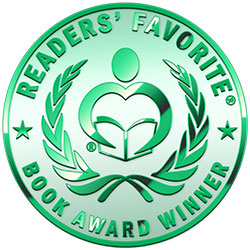 Reviewed by Shannon Winings for Readers' Favorite
Harlow has lived on the West Coast since her parents died years ago. When she finally graduates college and lands a job in teaching, she realizes it's not quite what she wanted to do. So she packs up and heads back to New York on her birthday. There, she meets Rex, a nearby tavern owner, and sparks fly. That's not all as she's suddenly given the key to her old family home, learns that one of the most influential people in New York has been watching her and buying her paintings, and that she's part of a paranormal world she never knew existed anywhere other in than her paintings. She doesn't need any extra baggage but finds she is tied to both of the new men in her life. As she struggles with her feelings, evil outside forces are bent on using her for their own will. Read Marked for Darkness: Possessed by Darkness Book 1 by Raven Woodward to see how she fares in an otherworldly realm now her own.

Raven Woodward should be proud of her ability to craft such a spectacularly dark and still fascinating world. The scenes Harlow is compelled to paint turn out to be a second world that she is drawn to in another manner. I found myself drawn to the characters that resemble twisted versions of fairytale creatures like vampires and werewolves. The scenery also has enough similarities to Earth that readers can picture this new planet with their mind's eye. While the visuals are captivating, the storyline was also unique from others I have encountered. It followed similar paranormal romance themes but was different enough to keep readers' attention. Fans of this genre are sure to enjoy Marked For Darkness.