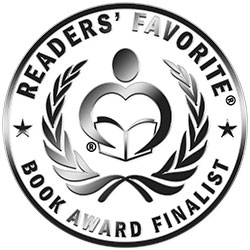 Reviewed by Emily-Jane Hills Orford for Readers' Favorite
Jake loves wandering through the woods. He growls at everything and everyone – in a friendly sort of way, of course. He enjoys meeting all of nature's wonderful creatures and he's made friends with many of them, especially Neet the squirrel. While Jake dashed through the forest trails, Neet would keep pace flying through the tree branches above. Then, one day, Jake and Neet discovered some unusual tracks. Neither one of them knew what to make of these tracks. Could it be an alien from outer space? Jake is quite worried and sleeps restlessly, fearful of what strange creature might be roaming through his woods. Jake enlists all his friends, doggy and others, to help solve the mystery. One of the new doggy friends, Tuck, helps solve the mystery, only Jake discovers that Tuck is the mystery because he's different.

Samantha Shannon's picture book, Jake the Growling Dog Shares His Trail, is another entertaining story in the Jake the Growling Dog series. This charming, inquisitive dog loves to share his life experiences, all while teaching both himself and his young readers some very important lessons. I like the way the author weaves a fantastic story, cleverly using rhyming verse, its lyricism making the message clear and familiar. In this story, Jake and his readers learn about empathy, equality and inclusion, vital concepts that simply mean accepting everyone for their differences and making everyone feel the value of their own self worth. In previous stories, other dogs and living creatures had to get used to Jake's growl, something he does without thinking and certainly not to be malicious. His friends learned to accept Jake for this unique quality of his. Now Jake must learn to accept Tuck for his unique qualities (even Tuck admits that Jake's growl frightened him at first until he got to know Jake). The colorful illustrations are endearing and help carry the story along. This is another classic to add to the Jake the Growling Dog series. Well done again!