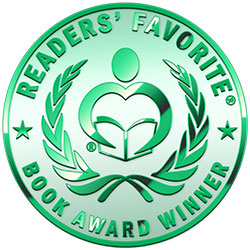 Reviewed by Marta Tandori for Readers' Favorite
Finding out who you're NOT is at the heart of this delightful children's book, Mango the Long Haired Ginger Cat, written by Grandma Krazy and illustrated by Lauren Garcia. Mango didn't like being a long-haired ginger cat because her long hair was hard to care for. She was tired of the rules and the chores she was made to do and she longed to be different – a LOT different, as it turns out! Mango's seemingly dissatisfied life takes a drastic turn the day she finds a beautiful sparkling rock that turns into some wonderful colors. The rock comes with an added surprise that has the power to change Mango's life...

Most children, even adults, often fantasize about being something that they're not. Mango has the opportunity of a lifetime to actually change who she is but receives a rude awakening when her family becomes frightened of her and ends up rejecting her. Like most children's books, the author teaches children valuable life lessons like not trying to be something you're not and being satisfied with being the best you can. Grandma Krazy also underscores the importance of family and the loving embrace and acceptance family provides.

Garcia's illustrations are simple, sweet, and filled with emotional authenticity. Each image of Mango and her family leaps off the pages as if inviting the reader to rub a belly or scratch under a chin. Garcia manages to nail the mannerisms of cats, from the way they flatten their ears to the way in which they delicately wash themselves or huddle in a group. Mango the Long Haired Ginger Cat is also a great introduction to cats and their mannerisms for children who may be a little unsure or nervous around animals. Mango the Long Haired Ginger Cat is a great book that teaches some important life lessons and is sure to be a treat for young children.