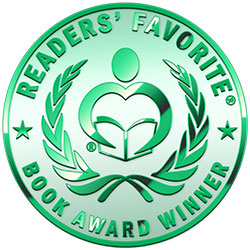 Reviewed by Caitlin Lyle Farley for Readers' Favorite
Cricket is angry. Her parents lied to her, taking her from her home and friends on their distant, dying planet to live on Earth. She has to go to school like a human teenager and do her best to fit into this strange, desert town where the houses aren't cylindrical and the world is open to the sky. Cricket gets off to a rough start as she and her family give off the wrong impression to everyone they encounter. Cricket's new human body attracts the unwanted attentions of the local motorcycle gang, who regularly cause havoc in the area, and soon the mayor is breathing down their necks, convinced there's something odd about the Sminth family, besides their unusual names.

In A Girl Named Cricket, Peter J. Manos writes convincingly from the alien perspective and the confusion caused by language and cultural differences is often hilarious. The world building incorporated through Watson, Crick, and Cricket's relationship dynamics, remarks on lifestyle differences and, in particular, Cricket's nostalgia and longing for home paints a realistic feel of the otherworldly. Although she often comes across as petulant and rash, Cricket is easy to relate to and her insightful observations never fail to entertain. Tom is a darling and I loved the way Manos incorporated the trauma he experienced into his personality, without allowing this to overshadow other facets of his personality. A Girl Named Cricket is an entertaining and imaginative sci-fi novel from beginning to end. Manos' blend of humour and compellingly alien beings is a winner.