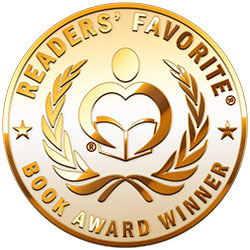 Reviewed by Delene Vrey for Readers' Favorite
James Crowley is a Black Badge working for the White Throne. Many years before, he died doing the one decent thing he ever did, saving a mother and her young daughter from the hands of his then leader, Ace Ryker. Now he is on his way to Lonely Hill, a small town in the Wild West, no longer a Scuttler or outlaw but a Badge to keep the Supernatural outlaws in check. How the tables have turned. Outlaws are running amok, robbing small-town banks, and blazing a frozen trail to Revelation Springs, where the owner of said banks is preparing for the Founders Fair. Ever veering off his path Jack helps some hapless humans along the way escape from werewolves and demons, collecting stray humans as well as supernatural artifacts and infuriating his handler. Once in Revelation Springs, a crime so old and revolting comes to light, and shadows from Jack's past come back to haunt him. In the end, Jack does what is expected from the White Throne, and it seems that justice is served, or maybe this is where the real journey begins.

Cold as Hell by Rhett C Bruno and Jaime Castle is a whopper of a wild ride through the Wild West. In places where the law has no real footing, things that go bump in the night must be kept in check. Rhett C Bruno and Jaime Castle write a novel that feels so authentic you can hear Jack's voice grating like sandpaper. The characters are genuine and far from story perfect, making the whole book a believable ride through the gunslinging West. The manner in which the story is presented makes the supernatural aspects blend seamlessly with the mundane. In an untamed world where men are as bad as monsters, it is disconcerting to find that real monsters also exist, so bad that the worst of the outlaws can become the weapon to hunt them down. I simply loved it. As a fan of Supernatural and Jim Butcher's Dresden Files, this was just up my alley. Add a good number of gunfights and fistfights that belong in a spaghetti western, and it is near perfection. This most definitely is my next favorite series.