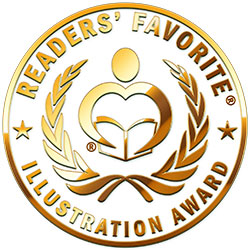 Reviewed by Kim Anisi for Readers' Favorite
Gentle Mentals by Veronica Padilla takes a look at a wide variety of mental illnesses. At first glance, the book appears to be aimed at children. It's colorful and has many pictures but little text. Once you look closer though, you soon see that children are clearly not the intended target group (though teenagers might enjoy it, too). Readers are introduced to characters like Anxiety Alli (an anxious alligator who wants to murder sheep), OCD Otter, ADH'Deer and (my favorite) the Schizo Shi Tzu (it suits the breed perfectly). Each animal has a certain issue which is illustrated through pictures and a short rhyme.

I picked up Gentle Mentals by Veronica Padilla because I volunteer for a charity where we often have to deal with people who have mental problems, mainly autistic people. The book is not meant for people who take things too seriously, as it looks at the mental issues with dark humor. I found it funny, the naming of the animals is very creative, and some made me laugh (like the Schizo Shi Tzu). It's a short, fun read for people who somehow have to deal with mental issues. It is not a mean-spirited book, but simply shows some aspect of mental illnesses that people will easily be able to recognize. I guess the book may also be used to educate people about different issues, e.g. the rhymes and illustrations could be used as starting points for discussions.