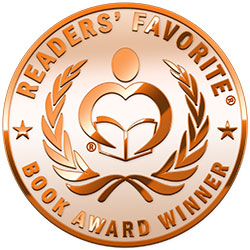 Reviewed by Lex Allen for Readers' Favorite
In the Royal States of America, magic rules all, but life—and love—always finds a way. Summer Cassidy, a pre-doctorate archaeologist determined to achieve that objective at all costs, is forced to sell a priceless Aztec necklace at the Texas Charity Auction to raise money for further exploration of a temple in Mexico. Here she meets Bachelor #103, a man who finds her description of human sacrifice charming rather than appalling. He buys her necklace for millions; she buys his company for a quarter. One coffee date, a dinner, and a curse later, Summer is thrown into a deadly adventure where magic, cinnabar, gods, and ghosts control her destiny as she struggles to solve a mysterious curse that could give her everything she'd dreamed of or cost her life.

In The Captive King, one of three stand-alone novels in the Royal States Series, Susan Copperfield has delivered a romantic fantasy tale of unequaled suspense, adventure, mystery and imagination. In a future world, that followed a revolution, the United States has been divided into individual kingdoms. The populations of these kingdoms consist of royals, elites, regular folks and a group of talents—those who can manipulate the elements, foretell events or determine a person's truthfulness, among other things. Summer is an earth weaver, prized at archaeological sites for her ability to move, reshape, or excavate dirt and stone with her mind and hands. She discovers the jade necklace, the crux of the story, which she sells at auction and kicks off the events for the rest of the story.

The Captive King is among the most compelling, imaginative and dynamic stories in this genre that I've read in a long time. Summer and Bachelor #103, aka Landon, provide a constant series of the most facetious, sarcastic, and alternatively loving and allegorical dialogue I've ever read. Their story is fast paced, the characters beautifully and perfectly portrayed. The mystery and the magical elements of the story are mesmerizing and unforgettable. I've become a fan of Susan Copperfield and this series... it's irresistible.