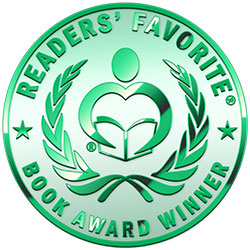 Reviewed by Liz Konkel for Readers' Favorite
The Guest is a Goner: A Humorous Paranormal Cozy Mystery by Carly Winter is the first book in the Sedona Spirit Cozy Mystery series. Bernadette is the proud owner of a bed and breakfast that has become a hot spot for ghostly activity. At least that's what she lets her guests believe. She soon becomes a believer herself when she comes face-to-face with Ruby, her grandmother who has been dead for the past three years. Could her newfound ghost sighting be related to her recent incident when she was struck by lightning? Whatever the cause, Ruby is delighted to spend time with her granddaughter who can actually see her. When her grandmother delivers the news that one of her guests is a goner, Bernadette thought her day couldn't get any worse until she learns that the man was murdered and the cops think she's a suspect. The good news is that Ruby is there to help prove her innocence.

Bernadette is a delightful character who's been thrown into this unusual reality where she can see ghosts. Ruby is one of the best characters from her scent of marijuana and lavender soap to her larger-than-life personality. Carly Winter hits all the right notes with this character, which sets the tone for the entire mystery. Ruby is described as a loose cannon who played by her own rules and was the grandma who would let Bernadette eat ice cream for breakfast and go to R-rated movies. Her adventurous spirit was so large in her life that it carried on into her afterlife. She represents the carefree, wild, and outgoing personality that Bernadette envies as she's a personality that's more serene and calm. The contrast between their personalities creates the perfect sleuthing duo with Ruby being the spark of life that Bernadette needs while Bernadette is the calm that her grandmother needs. Together, they're the ideal duo that's funny, charming, and clever.

The mystery hits close to home as the body is discovered at her bed and breakfast, which drags her in the middle of the investigation as a suspect and throws her into the crosshairs of a killer. Even with a busy schedule of solving a murder and spending time with her ghost grandmother, Bernadette also has two romance options with her handsome friend Jack and detective Adam Gallagher. Carly Winter delivers a fun and fresh cozy mystery in The Guest is a Goner, which creates a wild ride of hijinks, trouble, ghosts, and hilarity with the perfect dynamic duo.