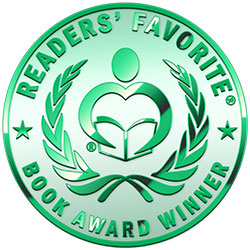 Reviewed by Ruffina Oserio for Readers' Favorite
There is lot of literary beauty in book 1 of the Book of Theo series, Theo and the Forbidden Language by Melanie Ansley, from the excellent prose to world building, from character to plot and the awesome things in between. It is a fable with powerful lessons on slavery, oppression, and man's undying desire to subdue others. Mankahar is a place where it is forbidden to speak and write and where the human empire use a poison called pacification to rob animals of speech. The human empire is bent on capturing animals to use them as slaves on the farms, but there is a power that stands against them — The Order. It's the society of free animals who are fighting for their cause. Meanwhile, the rabbit Theo hides a terrible secret — he has mastered the forbidden language and the secret to deciphering words. Now he has joined Brune, the bear with the axe, in the fight to defend his kind. Theo will have to risk everything to protect his kind.

This is a gorgeous narrative and Melanie Ansley surprised me on innumerable counts, exploring characters in a way that makes animals take on human attributes. The narrative style is unique and the author creates scenes that are focused, allowing readers beautiful visuals of the setting and action. Ansley pays great attention to the tone and, aside from the absorbing narrative voice, the dialogues are well-crafted, capturing the unique accents of the characters. Readers will love the characters, who are infused with human feeling and emotions. My favorites were Theo, Fr. Oaks, Walnut, and Brune, the axe-wielding bear. Fans of Animal Farm by George Orwell will love this book. It's well-plotted and laced with wisdom and elements of the conspiracies readers encounter in human politics. Themes of friendship, survival, and slavery, and the fight for justice are well explored. You will be transported into an exciting and unique world, be captivated by the mesmerizing prose, and delighted at the cinematic style writing. Adults as well as kids will enjoy this story. Can't wait for the next ride with Theo!