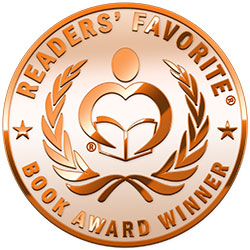 Reviewed by Grant Leishman for Readers' Favorite
Watermark: The Broken Bell Series by Elise Schiller is a heart-breaking story of teenage angst, coming of age, family dysfunction, and poverty in the inner city. Angel Ferente is a little more damaged than your average teenager and yet, she has managed to rise above her circumstances and become a high-school sports star. Angel lives with her mother, her step-father and three half-sisters in one of the poorest areas of urban Philadelphia. Her mum, Pic, is an alcoholic, drug-taking, often absentee mother and her step-father is an unemployed, drug-dealing and abusive, layabout. For most of her eighteen years, Angel's life has revolved around balancing caring for her three younger half-sisters, working a part-time job at the local laundromat, and attending school when she is able. What lifts her out of this grind is her love of and her excelling at competitive swimming. Swimming is a way for Angel to get away from and forget the awful realities of her daily life but, even more importantly, for Angel, it is something she is able to excel at – something that can finally give her some pride in herself as a woman. Even swimming, though, it seems will not be enough to keep Angel totally on the straight and narrow.

I found this book to be fascinating and insightful. Watermark: The Broken Bell Series delves inside a world that is not often open to inner-city children, especially those of color; the world of competitive swimming. Author Elise Schiller has produced a lead character that is both compelling and frustrating from a reader's perspective. As a reader you just wanted to grab Angel and give her a good shake, telling her how damn special she is and how she shouldn't waste this God-given talent that could take her places she'd never dreamt of, like college. The author told her story using three separate voices and perspectives: Angel, her sister Jeannine, and her best friend, Alex. This method was fraught with danger, from a reader's perspective, yet the author made it work perfectly. In fact, Jeannine emerges from the tale as one of the more fascinating characters of the three and one that evinced great empathy from the reader. All of the main characters were incredibly easy to identify with and to root for. I particularly enjoyed the swimming coach and his assistant who were character summations of wonderful people all over the world who return to their roots and try to give back to the children of their own hometowns some of the opportunities they themselves were denied or were unable to achieve. Yes, the story is bittersweet in many ways but incredibly compelling and a wonderful read. I can highly recommend this story and look forward to the next iteration of the Broken Bell series.