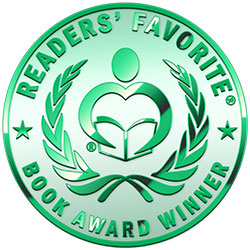 Reviewed by Brenda Daniels for Readers' Favorite
Stargazey World by Christine Dawe is a fast-paced children's fantasy adventure filled with humor. Its protagonist is Sheena Robinson, a scouser (person from Liverpool) with a mass of green hair, a dad who's always telling corny jokes, and a best friend called Lizzy. Sheena hates school and doesn't concentrate long enough to get her geography and spelling lessons right. During the summer holidays, she acts as a bridesmaid at her cousin Pauline's wedding in Cornwall. There her days are filled with family outings in the countryside, while her nights involve exciting travels in a flying bunkbed to the five continents of the world. In these distant places, Sheena battles harsh weather conditions, helps to free the animals on the bedroom wallpaper in her cousin's room, and discovers her own strengths.

Stargazey World is a clever story with a strong and constant play on words, something I especially enjoyed. Hassocks (cushions for kneeling on in church) become violent Cossacks, tiddly oggies (Cornish pasties) become, well, tiddly, and a zebra in Africa is seen crossing. All of Sheena's daytime activities merge into the nighttime dream-cum-fantasy, revealing both the importance of the character's actions in directing her own life and Christine Dawe's meticulous crafting of a story in which every detail matters. Messages such as the importance of family, acceptance of people for who they are, environmental disasters like drought and fire, and the respect for cultural differences are lightly dealt with.

The narrator of an audiobook can make or break the experience for me as a listener and Christine Dawe, who narrates her own book, is brilliant! Her tone perfectly captures emotions and thoughts, adds wonderfully to the already strong characterization in the book, and entertains with a range of accents. These accents include northern and southern English, Australian, South African, Indian, American, and Spanish/French/German, all done in quickly switching dialogue. Although listening as opposed to reading meant that I missed seeing the creative spelling in the story, I loved every minute of the experience.