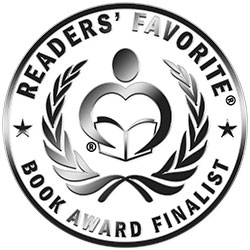 Reviewed by Jack Magnus for Readers' Favorite
The Alienation of Courtney Hoffman is a young adult adventure novel written by Brady Stefani. Courtney is about to turn 15 years old and it's the night before her birthday. Her mother has planned a big party for the event, but Courtney is not at all interested in playing at being happy and excited by having all those people there in her house. Courtney has bigger problems, much bigger problems. Her dreams are filled with the visitations of strange alien beings and, that evening, with the rain pouring down and the wind gusting, she finds herself running away in fear of those strange beings that she believes are coming after her. It's not something she could really feel safe explaining to anyone, except maybe Astra, her imaginary friend, whom she hadn't seen in about two years now.

It all seemed to stem back to that last night she spent with her grandfather, when she was seven years old. Her mom and dad thought her grandfather was a bit crazy, and he did have all sorts of ideas about aliens, but they were going to visit some old law school friends and dropped Courtney off to stay with Grandpa. After a strange day that included her getting a tattoo she hadn't wanted, Grandpa made her dinner, burning the hamburgers, and suddenly there was a pounding on the door and some of Grandpa's old friends from the university rushed in. One of the men said that 'they' were coming. She could hear them talking from the other room, and then she heard someone say that she wasn't safe. Courtney still remembered that night as vividly as though it were just yesterday. But the strangest thing of all about that night was the fact that her beloved Grandpa had tried to drown her in the bathtub.

Brady Stefani's young adult adventure novel, The Alienation of Courtney Hoffman, is a grand read that kept me enthralled for hours. One can't help but feel for the young woman who seems to have no one she can trust -- especially not her lawyer mother and her mother's doctor boyfriend. But Courtney is bigger and braver than anyone expects, and her coming of age is a spectacular thing requiring resilience, self-sacrifice, and imagination. Stefani's heroine is unforgettable, and his plot is inspired. This novel has a breakneck pace and Stefani's writing is fluid and perfectly suited to this most extraordinary tale that blends the coming of age, adventure, science fiction, and post-apocalyptic genres -- and it all works beautifully. The Alienation of Courtney Hoffman is a thriller of a ride, and it's most highly recommended.