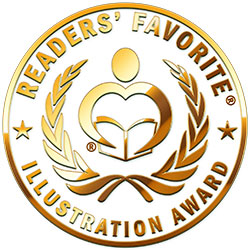 Reviewed by Anne-Marie Reynolds for Readers' Favorite
The Jaguar's Story by Kosa Ely is an informative and special story about Chasca and Inti. A pair of Jaguar cubs, Chasca and Inti live with their mama in the rainforest. Their days are spent swimming, befriending others and learning how to roar loudly. One day, their rainforest is invaded by big machines on the land and in the sky and the cubs are scared for their lives. One night they make a run for it with their mama and set off on a journey that will surprise, delight and scare them as they try to find a safe place to live. An informative but cute book with plenty of colorful illustrations and lots of facts. Join in the game as you try to find as many animals, insects, flowers, mammals and reptiles as you can.

The Jaguar's Story by Kosa Ely is a wonderful book, not just for children – adults can learn a lot from this too. The illustrations by Radhe Gendron are amazing, helping to bring the story truly alive. This isn't just a kids story. This is an emotional journey, incredibly educational, teaching children to care for their planet, for their future, and to think hard about protecting the environment they live in. The extra facts at the end of the book are a great idea and they really bring home the fact that Jaguars, and other animals like them, really are an endangered species and if we don't learn to look after what we have, we will lose it forever. This is a great story that is written in simple language, easy to understand and I am certain that kids everywhere will love it. It should be included in all school reading lists too!