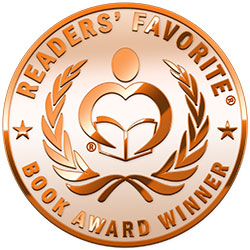 Reviewed by Viga Boland for Readers' Favorite
And Then There Were Three: Sixty-Seven Letters to Sasha by Julia G. Fox is a fascinating book. My fascination lies in both the author's presentation of the material and her style. Rather than take the more traditional, novel-like approach to her memoir of three people in a polyamorous relationship, Julia G. Fox has chosen to present her material in a series of letters to Sasha, one of the principle characters. What I also find fascinating about the style is Julia G. Fox's incredible ability to weave poetry into prose. Many times I found myself stopping to re-read a line or a paragraph for the deeper meaning suggested by the words. And Then There Were Three: Sixty-Seven Letters to Sasha is anything but a simple narrative memoir: it is poetic prose…and it's beautiful.

And Then There Were Three is also intriguing, enlightening and even daringly raw. There will be some readers who will not be able to handle the erotic descriptions Julia G. Fox provides about the sex she enjoys with Sasha, who is gay. They may also be offended, shocked and quite unable to accept that Julia is also married to George, a bi-sexual, and that these three people somehow find a way for a period of time to live, love and have sex with each other, and as a threesome, with no traumatic psychological issues between them. How intriguing! It's a lifestyle that for most people is part of a fantasy to which they could never admit.

The enlightening aspect of And Then There Were Three is also disturbing as we learn how dreadful it is to live in a society so non-accepting of same-sex love. Sasha grew up in and lives in the Ukraine. Under no circumstances does he dare reveal his true sexual leanings. In fact, his need to hide the truth is so important that he actually marries so he won't be found out. What a terribly sad way to live. And Julia G. Fox has so beautifully shared Sasha's sadness…and hers…with us.

I came away from this memoir deeply touched on many levels. If a reader is looking for titillation, there are plenty of other books on polyamory that provide that. If the reader is looking for something that is erotically honest, uniquely poetic and movingly memorable, Julia G. Fox has written And Then There Were Three for them.