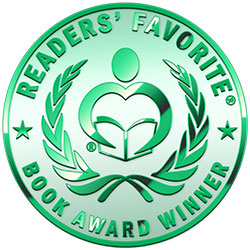 Reviewed by Jack Magnus for Readers' Favorite
The Temple of the Crystal Timekeeper: The Chronicles of the Stone, Book 3 is an action and adventure novel for children and young adults written by Fiona Ingram and illustrated by Lori Bentley. Adam, Justin and Kim knew they'd be questing for the third Stone of Power when Aunt Isabel made the arrangements for their travel documentation, but she and archaeologist James Kinnaird had wanted to keep their actual destination a surprise. The three kids were thrilled to discover that they'd be searching for a lost Mayan city buried deep within the Lacandon jungle. They had no idea, however, that the carefully planned expedition would take a sudden turn towards the unexpected when an afternoon's flyover of the jungle with James piloting their leased plane ended in disaster.

The Cessna had malfunctioned and crashed into a canopy of trees, leaving the three kids hanging upside down from their safety belts and James bleeding and unconscious. Their first priority was to get out of the wrecked plane, which was a matter of some urgency as the fumes that filled the cabin made them increasingly nervous. The trio did make it down to the jungle floor, with a bit of maneuvering, and they were considering how they would get James out of the plane when they realized that they were not alone. Adam couldn't believe it -- here they were lost in the middle of a vast jungle, one filled with snakes, venomous insects and jaguars, which James had described as apex predators. Even more discomforting, however, were the distinctly humanoid eyes gazing at them from behind a large grove of bushes. Suddenly, tribesmen appeared, garbed in loincloths and adorned with tribal face paint, tattoos and scarring. They were carrying spears, which they didn't hesitate to use to block Justin when he attempted to stop them from climbing up to where James was still lying in the wrecked plane. The three young teens wondered at the natives who seemed to be ignoring them as they worked to free James and then began to carry him off. Seeing no option other than to follow them, Kim, Adam and Justin decided they'd probably be better off going along with the natives rather than staying alone and without supplies in the jungle. At least, they hoped so.

Fiona Ingram's action and adventure novel for young adults and preteens drops the reader, along with Justin, Kim and Adam, right into the thick of the action, and I can't think of a better place for a reader to find himself in. I've read the preceding books in this series and find myself more and more impressed with each subsequent volume. While you can read this one on its own, don't do it. There's an underlying thread that connects these books that shines out brilliantly as you follow the three adventurers as they meet each challenge and master it. Aunt Isabel and James Kinnaird are marvelous guides and mentors and, under their tutelage, each of the three young characters is seen as they face fears, develop new skills and learn how effective they can be as a team. I was thrilled to learn that this third quest would take place in the Lacandon jungle and that the team would be searching for a lost Mayan city, but I had no idea how detailed and informative this book would be. I especially enjoyed meeting the uncontacted tribe along with Adam, Kim and Justin, and seeing how they interacted with the three marooned kids.

Ingram's story educates as it entertains. That description might initially put off some prospective readers, but don't let it. It's not nearly as ominous as it sounds at first. Each of the books in this series is a learning experience involving interaction with different cultures, history and, yes, adventure -- lots of adventure! Following the tradition of classic adventure writers such as H. Rider Haggard, Jules Verne and Robert Louis Stevenson, Ingram makes the varied locales in which she sets her stories come alive so fully and vibrantly. Seeing her three young heroes grow as they learn, explore and solve the succession of challenges, setbacks and puzzles that come their way, in those far-flung locales, is a grand experience indeed. In The Temple of the Crystal Timekeeper, Adam, Justin and Kim find their own individual strengths, and they each come of age in unique and special ways. They complement each other so very well and are truly a team worth watching -- especially in this book where they are, for the most part, on their own. Ingram's work also highlights the plight of the uncontacted tribes in this area of the world, where commercial and agricultural interests are destroying ages-old cultures and communities.

Looking for a grand adventure series for a child or young adult? Do consider Ingram's The Chronicles of the Stone series, but bear in mind that these books are grand and illuminating entertainment for adventurers of all ages, including those fortunate adults who still thirst for adventure and the thrill of the undiscovered. I'm so pleased that Ingram's series revolves around seven Stones of Power and I'm looking forward to books 4 through 7. The Temple of the Crystal Timekeeper: The Chronicles of the Stone, Book 3 is most highly recommended.