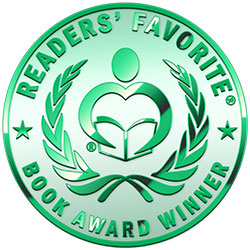 Reviewed by Rabia Tanveer for Readers' Favorite
Forever Grace: Ever After Book 2 by Linda Poitevin follows Grace, a woman in her thirties, living with four children deep in the woods. Lonely and scared, her main priority is protecting these little kids who are mature beyond their years. With the threat of danger always in their heads, there is nothing that can change her focus from them to anything else. She had no idea what a handsome stranger with his leg in plaster can do.

Sean is a cop, he is a protector and he loves his peace. When he came to his cabin to recuperate from a bad leg after a shooting incident, he had no idea that he would find a family that he will love and cherish beyond anything else. The four children are special and so is their aunt. There is an undeniable chemistry between them, but there is something else. They are hiding, but from what and who? Is this a disaster waiting to happen or he is finally finding kids he can actually call his own?

Forever Grace: Ever After Book 2 by Linda Poitevin is one of those rare romance novels that is not just good, but leaves an imprint on your mind and so you remember it forever. This novel made me so happy. Clean, beautiful and a perfect romance novel that will make you sigh. From the moment I started reading this novel, I knew it was special and I would just simply love it. This beautiful novel is now my all time favorite. I love every single thing about this novel. I love Annabelle, Joshua, that brave little boy. That Annabelly chant was really cute. And gosh the end, it was intense, sweet, and so very romantic. Sean and Grace are now my favorite characters! Five stars through and through.