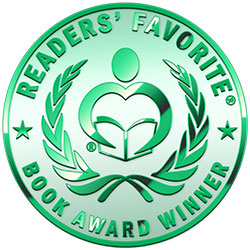 Reviewed by Rosie Malezer for Readers' Favorite
Gorgon is the second book in the WhipEye Chronicles, written by Geoffrey Saign. Estranged friends and neighbors, Jake and Samantha, celebrate a special dinner hosted by Bryon (Samantha's father) and Cynthia (Jake's mother), but the festivities are interrupted when a giant Komodo Dragon crashes the private party, demanding the WhipEye staff be handed over to Gorgon. When the children refuse, Bryon and Cynthia are attacked, leaving them fighting for their lives. Armed forces quickly arrive, taking both children prisoner, whilst using their ailing parents' lives as leverage to get answers. With the help of friends and the WhipEye, Jake and Samantha escape to safer ground, but must hurry to find an antidote to save their parents, whilst hiding from their kidnappers. With time not on their side, and the added discovery that one of their dearest friends – possibly the only one they can trust – is in grave danger, the children use extreme caution in an effort to save their parents, protect the inhabitants of KiraKu, as well as the people of Earth. Achieving these things, whilst fighting a battle filled with death and bloodshed, and without falling under WhipEye's spell, is a whole lot harder than it sounds.

The allure of The WhipEye Chronicles is one that I simply cannot resist. Geoffrey Saign has created other-worldly creatures which can take on many forms, whether in their home dimension of KiraKu or on Earth. In true form, the book dashes from a peaceful, celebratory introduction, before fast becoming a mass of action, drama, thrill and mystery. I strongly recommend that the books from the WhipEye Chronicles are read in order, so that the reader is able to thoroughly grasp the important role that each character of the story plays. Although many new characters are introduced, some old favorites return, creating a feeling of happiness and recognition, which brings a smile to the face of this particular reader. I tip my hat to Geoffrey Saign - not only for the amazing continuity between the first and second books, but also for the well-roundedness in each of the characters, whilst leaving the reader guessing whether each one is friend or foe. I thoroughly enjoyed Gorgon from beginning to end, and recommend it to readers of all ages, especially those between 8-14, who are fans of epic adventures from out of this world.