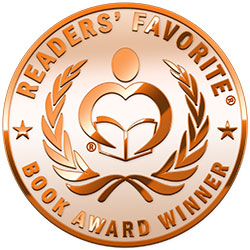 Reviewed by Nino Lobiladze for Readers' Favorite
Four solitary people sit in a restaurant in Annapolis. It's Midnight Madness, and soon they will head toward the stores. They all have stories and these stories are sad. Eva Levoni's boyfriend, Kyle, left her for another woman. Reid Jones is devastated because his parents are selling his childhood home, and he can't afford to buy it. Lily Webster is confused with the abrupt turn her life has taken recently. Dimitri Vassos struggles with gambling addiction. His overly spoiled wife left him, pursuing a man with more money than Dimitri ever had. These four people don't know yet that around the corner, in a lovely bookstore named Brodie's Books, Meg Ellis, its owner, patiently waits for those who are brokenhearted and unhappy to support them with letters she secretly puts in the books. These letters will change the lives of Eva, Lily, Dimitri, and Reid for good. The Letters in the Books by Stephanie L. Verni is an uplifting story of love, friendship, forgiveness, and dreams coming true.

In The Letters in the Books, Stephanie L. Verni crafts a captivating plot and divides it into sub-plots to show the unfolding events from different perspectives. Characters play the biggest part, and Eva is my favorite. She is loving, strong, and highly professional but never controlling. And, of course, the centerpiece of the novel is Meg. Depicting this amazing character, Stephanie tells us that empathy and compassion require a high price, which an empath pays, but it is worth it. Stephanie touches on the topics of love and betrayal, leaving no doubt that love always wins. I appreciate a well-researched background, as Stephanie gives us a clear picture of how to run a small business. We see it through the loving eyes of Meg and follow the development of stores and boutiques from the professional perspective of Lily, a small business owner, and Eva, an experienced and dedicated PR manager. Stephanie's love for Annapolis shines through almost every page. The author speaks about mundane events almost poetically and surprises us with a dramatic accord at the end of this wonderful book. I highly recommend The Letters in the Books to fans of character-driven stories, inspirational novels, romance, family drama, and fiction with leading female characters.