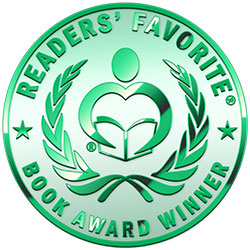 Reviewed by Lit Amri for Readers' Favorite
In The Witching Vault (Accessory to Magic, Book 1) by Kathrin Hutson, witch Jessica Northwood just got out of the magical prison and is determined to turn her life around. She applies for a job as an apprentice at Winthrop & Dirledge Security Banking, owned by an eccentric scryer Tabitha Belmont. The place is dusty and moldy, and there is a huge lizard named Confucius that seems to be more intelligent than it looks. When a shocking murder happens, Jessica finds herself as the new owner of the magical bank with its witching vault, troublesome customers, and a 'Gateway' on the second floor. Can Jessica handle the responsibility or will she try to break a contract that she unknowingly signed up for?

Engaging, fast-paced, and full of mysteries, The Witching Vault does not provide answers easily. Protagonist Jessica Northwood has to deal with her days at the Winthrop & Dirledge Security Banking as best she can if she does not want to end up dead. Readers will find out that in order for Jessica to discover the truth about the Gateway and why almost all magical beings want a piece of it, she needs to stay alive. The witch herself has a tantalizing past that will only increase readers' curiosity. It is easy to root for her in her quest to fulfill her role as the new owner of a magical bank that has a personality of its own. Fae, necromancer, dwarf, a half-giant, and other magical beings add another layer of peculiarity to the story, as the bank is a living entity that is powerful but vulnerable at the same time. With its dark humor and excellent fighting scenes, Book 1 of Kathrin Hutson's Accessory to Magic series intends to keep most of its secrets and let everyone be intrigued. What will Book 2 reveal I wonder? A fascinating and fun read for fans of the genre.