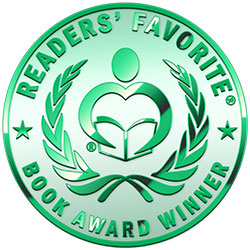 Reviewed by K.J. Simmill for Readers' Favorite
In Daryl Sherfey's Toad Road, Wart knew he was destined for greatness if only he didn't have to prove himself. Whenever he tried something always went wrong and he became a laughing stock; not that he was ever taken seriously, to begin with. His size had always been a sore point. Smaller than his peers, he felt the need to be accepted, so guard duty was his chance to do just that. The pond had been shrinking, the creek running dry. Only the brave stood guard, which is why he had never been asked, but when Jumbles returned with news about a suspicious plot by the toads, Wart finds himself on his biggest adventure yet. He may be small in stature, but his heart and focus are enormous, and he will need all his courage to face what is to come.

Through the misadventures of Wart, in Daryl Sherfey's Toad Road, young readers are given a glimpse into the natural habitat of frogs, and the environments they thrive in. Great scene setting conjures up vivid images, leaving a firm picture in the mind while not becoming too overwhelming for younger readers. The diverse and entertaining characters not only hold interest and drive the story forward but also have their own messages which a child can easily pick up on and be inspired by. There are so many little pieces of factual information woven in that readers learn without even realizing as they follow the exciting adventure. Food chains, evolution, survival, and character are but a few topics touched upon in this charming children's book. The level makes it suitable for youngsters transitioning from picture books and the involved plot will appeal to older children. But this is not something only to be enjoyed by children; it possesses a whimsical charm that will appeal to adults looking for a fun read to share with the family. Action, adventure, humor, and danger fill each page, propelling you through the wondrous adventure that in some ways reminded me just a little of The Wind in the Willows.