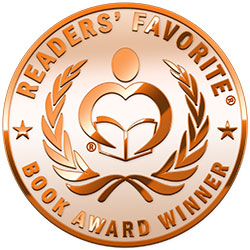 Reviewed by Haiqa Munir for Readers' Favorite
Winks from Above is an enlightening and uplifting book exploring the power of signs, synchronicities, and everyday miracles. The author invites us to open our minds and hearts to the subtle messages and connections surrounding us, offering guidance and inspiration for embracing a more meaningful and magical existence. Liliane Fortna blends personal anecdotes, spiritual insights, and practical advice to create a comprehensive and accessible exploration of signs and synchronicities. She emphasizes that the universe constantly communicates with us, sending us messages to guide us along our life's journey. Through her own experiences and those shared by others, Liliane demonstrates how paying attention to these signs and synchronicities can lead to profound transformations and a deep sense of connection. Each chapter is filled with relatable stories, practical exercises, and thought-provoking reflections, encouraging us to engage and apply the material to our lives actively.

The writing style in Winks from Above is warm and engaging, making the story a pleasure to listen to. Liliane conveys her ideas with clarity and enthusiasm, presenting complex concepts in a way that is accessible to listeners of all backgrounds. The author inspires us to seek out and interpret signs and synchronicities actively rather than relying solely on external forces. Through various techniques and practices, she encourages listeners to develop their intuition, trust their instincts, and cultivate a sense of gratitude and wonder. This empowering approach encourages listeners to participate in creating their little miracles each day. Winks from Above also delves into the broader implications of signs and synchronicities, exploring their role in spiritual growth, manifestation, and navigating life's challenges. It is a heartfelt and insightful book that encourages us to embrace the magic and wonder surrounding us daily. Liliane provides a roadmap for recognizing and interpreting signs and synchronicities, offering practical tools and personal stories to inspire listeners on their spiritual journeys.

The audiobook presents exceptional production quality, with clear audio and flawless narration that brings the story to life. The narrators of this audiobook are Robin McAlpine, Liliane Fortna, and Stephen George. Listening to each one was great, as their ability to convey the author's intended tone and atmosphere adds an extra dimension to the audiobook, enhancing the overall storytelling. The different uses of voices and accents, styles, and depth made this an awesome audio "read."