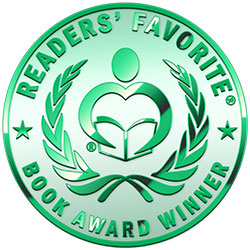 Reviewed by Charles Remington for Readers' Favorite
Preons: Alpha by Frederick T. Stevens is set in a Star Wars-like universe populated by a myriad of strange creatures inhabiting even stranger planets. The storyline is centered mainly around the adventures of David, an extraordinary individual who was present at the invasion and subjugation of planet Earth and who is bent on revenge. David discovered some latent, extremely violent powers during the invasion, and has spent the last seven years training and developing them on a planet where bloody gladiatorial tournaments to the death are a popular spectator sport. On the planet Canteli, Hanla is the King's favored princess who goes through a ceremony to wed a prince from a neighboring powerful planet. It is a politically arranged, loveless match but she is shocked when later, after the ceremony, the groom stumbles into their bed-chamber with a knife planted in his vital organs. As she removes the knife, and soldiers from the groom's home planet beat on her door, she realizes that being discovered holding a bloody knife over the dead body of her new husband will not look good, so she makes a hasty escape through the castle's secret tunnels...

As a fan of the sci-fi genre, I was very much taken with Preons: Alpha. It is a great space opera, with plenty of beautifully described action among strange and wonderful planets. Author Frederick Stevens is in possession of a prodigious imagination and writes with a light, sure touch, presenting an astounding array of characters and situations with clarity and lucidity. In a narrative that spans numerous planets, involves a plethora of alien races and several plot threads, one never becomes lost in the detail. The book is a brilliant achievement and I thoroughly enjoyed it. The narrative leads to an open-ended conclusion which promises a second volume (Preons: Beta?) which I hope will come soon. Preons: Alpha is first-class science fiction - aficionados of the genre will not be disappointed.