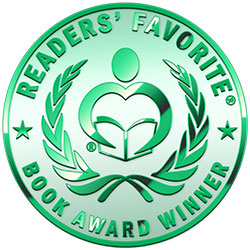 Reviewed by Stephen Fisher for Readers' Favorite
Secrets of the Home Wood - The Sacrifice by Julie Whitley is about a family that lives next a mysterious forest named the Home Wood. There are tales of family members disappearing after crossing the brook where sometimes they don't return. The story begins with the disappearance of Sarah, after an argument with her husband David. When David calls Sarah's workplace, he finds that Sarah never showed up. David rushes out to look for her. Overhearing the conversation on the phone, their son Jonathon, rushes out of the house, but not before his grandfather gives him some fruit and a protein bar for his backpack. One at a time, Sarah, David, and Jonathon are pulled into the alternate dimension. Since David became a hero in this mysterious land when he was Jonathon's age, he is reunited with the Sanigglans. When Jonathon finds his way to the forest kingdom, he is befriended by Pugg, the son of the leader of the Sanigglans. They arrive on the brink of war with the Grue. The chief's wife has been captured by the Grue, and is to be sacrificed during the next full moon. If that happens, all is lost.

Julie Whitley does a magnificent job of traversing back and forth between our family of heroes, making sure to leave each of the characters with a cliffhanger. Her writing style reminds me of Terry Brooks. As the race against time ensues, while the family members are trying desperately to reunite, they are beseeched by desperate events that require them to improvise, and find courage within themselves. Sarah, with the help of her father-in-law's brother, who had disappeared into the Home Wood many years ago, discovers a diabolical plot behind enemy lines. Julie's characters are real, and she really captures the essence of family ties, albeit good guys, or bad. Secrets of the Home Wood is an adventure on all levels, with lots of twists and surprises. Brava, Ms. Whitley!